By 2030, more than 500 billion gadgets will be online and all thanks to technology. Technology has given birth to IT professionals and today India has a count of 4.8 million employees working in the IT sector. One of the best examples of an Indian-originated tech whiz is Sundar Pichai (Google, CEO) who has contributed his knowledge towards the development of the world and the list of Indian-originated icons goes on.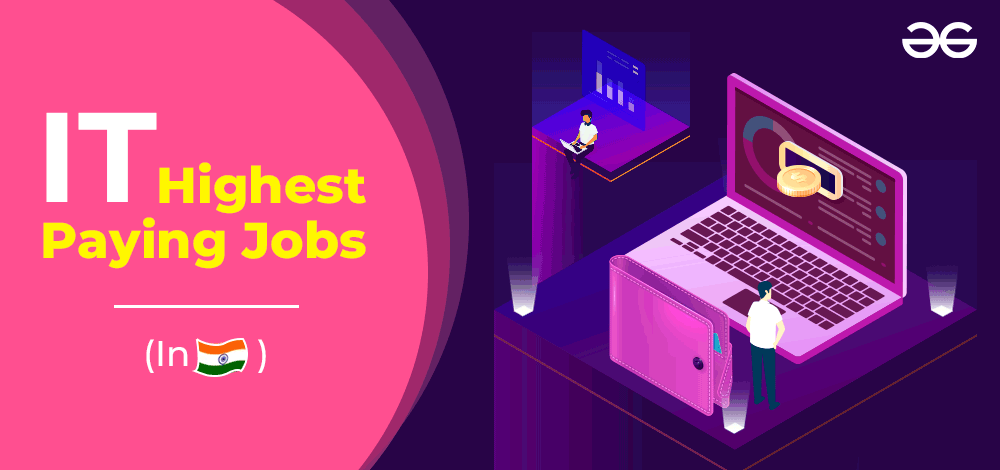 Because of the highest-paying jobs and lucrative careers ahead that IT companies offer, opportunities in IT Jobs are buzzing with huge demand. After getting a glimpse of the IT jobs, let's get deep and understand the job roles provided highest-paying tech giants. Let's also go through some of the highest-paying jobs in India that IT sectors offer to individuals. 
Why IT?
There are numerous reasons to validate why you should choose IT as a career. Besides, being the highest-paying job, it also offers a promising career and you can observe immense growth in this career. You get to walk with the trend the world follows, learn about trendy technologies, and also get the perks and benefits that companies offer. 
If you're someone who loves to play with technology and is keen to know more about advancements, IT is your step to get into it. Countless benefits that you get when entering into IT include:
Career opportunities: You get numerous fields to explore by knowing some of the basic concepts (programming languages, networking, OS, etc.). Several doors of opportunities are open for you once you get at least 1 year of experience in IT. You can also think of switching a career from tech to non-tech and vice versa provided you have the skills. Diverse options such as getting into web development, cloud engineering, data analysis, and blockchain are open for you. 
 
Working Culture: Working culture of tech companies be it MNCs or even startups have a comfortable working culture. With the pandemic, the work-from-home culture came into existence and companies are following it. So many benefits such as free meals, cab facilities, health insurance, etc are provided to the employees to make their life easy. Flexible working hours have been a boon to all of us especially working woman who also has children at home to look after. 
 
No cost to knowledge: Gone are the days when you required a B.Tech degree to get into IT. Knowledge has become completely free. You can literally learn anything online you want to. Resources such as Youtube, and online e-learning platforms are providing free resources to everyone who wishes to grab it. Just spend your valuable time, gain knowledge and you're all set to get into a blooming career. 
 
Highly paid jobs: Indeed, IT jobs are the highest-paying ones in India. Also, IT professionals also get huge increments and bonuses every year. This is the best benefit anyone could have while choosing any profession. With experience and expertise, the amount in the figure grows. A report states that "the growth of employment in IT is increased by 12% since last 10 years which is the fastest than other occupations". 
Highest Paying Companies in India
Companies hire people based on the skills and also experience they have gained in that particular field. MNCs and even startups pay employees lakhs of rupees and offer the most demanding job. Let's check out some of the highest-paying companies in India. 
Google 
Microsoft 
Facebook
Adobe
Intel 
Apple
Goldman Sachs 
Cisco 
Walmart 
Here's a great opportunity for you to apply and get jobs according to the skills and experience you have gained using our Get Hired With GeeksforGeeks – GFG Job Portal. So, now let's see the highest paying IT jobs in India.
1. Full Stack Developer
A Full Stack Developer is the most demanding job in or outside India. He/She is the one who builds the complete website and has deep knowledge of the front-end, back-end, and database. They are the ones who are proficient in the development stages and work on the maintenance of the websites. They also build APIs to perform communication between two applications. Reports also state that the demand for full-stack developers has experienced a growth of 20% in India. Also, startups hire more Full Stack Developers in order to build products on their own. For example, building an e-commerce website.
Skills Required for Full Stack Developers: 
MERN or MEAN is the latest technology that has been so trendy and most web developers have been shifting to these technologies in order to build a website. Explore GeeksforGeeks Complete Interview Preparation to become interview ready.
2. Data Scientist
Data Scientists are well-paid and the most popular profession in IT in India. Their primary objective is to collect, analyze and interpret useful output from data that could be used for business growth. You don't need to have a degree to get into this career, just basic knowledge is enough. In order to become a successful data scientist, you must also have business basics. In the analytics industry, their base salary is generally 36% higher than the other professions.
Skills Required for Data Scientists:
Mathematics fundamentals (Statistics or Probability)
Machine Algorithms
3. Cloud Engineer (DevOps) 
Cloud computing deals with the delivery of services (storage, servers, databases) over the network. Cloud Engineers are in much demand these days and indeed the highest-paying ones i.e., you can expect 70LPA in India, based on expertise. Cloud Engineers are IT professionals who manage the design, plan, manage, maintain, and support of the cloud infrastructure. Their primary responsibility is to develop and implement policies for cloud services and manage a secure environment. There are various roles offered to cloud engineers – Cloud Architect, Cloud SysOps, and many more. It is predicted that the public cloud service will reach $331 billion globally. The best example of a cloud service model is AWS (Amazon Web Services).
Skills Required for Cloud Engineers:
DBMS
Knowledge of Programming 
Cloud Platforms
4. Machine Learning Engineer
Machine Learning Engineers are trendy professionals who choose the latest technology to deliver the best solutions to clients. They design, create and build the AI algorithms to develop a predictive model. The best example of ML can be seen on Youtube and Netflix where users tend to see the recommendations on videos based on their search history. ML Engineers communicate with data scientists, data analysts, and administrators to deliver the predicted model. 
Skills Required for AI/ML Engineers: 
Programming and Analytical skills
Knowledge of programming languages (Python, R, and Torch)
ML and Deep Learning Algorithms
Libraries used for ML
5. Product Manager
Another highest-paying IT job in India is being a Product Manager. A Product manager takes care of the overall development of the product i.e., building and designing a product, and adding features to it according to the client's need. This is done in collaboration with the web development team. They also take care of the marketing activities and decide the product lifecycle management. According to Naukri, it is expected to have 22 million job openings for product managers globally and India has more than 20,000 product managers. 
Skills Required for Product Manager:
The basic idea of product management tools like JIRA, Asana, etc.
Strong analytical and communication skills
Time management skills
Problem Solving Attitude
6. Database Manager
In today's world, where millions and billions of data are generated on a daily basis, there should be a technique, method, or professional who manages it. That's where database managers play a major role. A Database manager manages, develops, and maintains data storage and also ensures its safety. There are thousands of job openings for database managers in India every year. He/She takes care of creating and managing the systems that an organization uses to arrange data. 
Skills Required for Database Manager:
Hands-on on DBMS tools
Knowledge of SQL, MongoDB
Extraction and Transformation of the Database
7. CyberSecurity
CyberSecurity professionals have gained a lot of popularity in the last few years and have become one of the highest paying jobs in India. They are the ones who protect our devices from cyber crimes (digital attacks). Hackers try to hack our sensitive information using different methods which are known as cyber-attacks. This can be prevented with the help of cybersecurity professionals who apply techniques and implement high-tech solutions. Their primary duty is to implement security programs. 
Skills Required for Cyber Security Professionals:
Problem-Solving skills
Technical Aptitude
Hacking and Security techniques
 Also, there are five C's on which cybersecurity professionals focus – change, cost, compliance, continuity, and coverage.
8. Blockchain Engineer
Since the adoption of digital payments has taken a great place worldwide, blockchain and cryptocurrencies have been a hot topics in the industry and have also become one of the highest paying jobs in India. It is expected that the world will spend more than $15.9 billion on blockchain solutions by 2023. A blockchain is a decentralized, distributed, and public digital ledger that records transactions across many computers. It has been the leading technology for the banking and finance sector. A blockchain engineer develops architecture and implements solutions related to blockchain technology. Coinbase Global Inc is one of the best global providers of financial infrastructure. 
Skills Required for Blockchain Engineer:
Proficient in programming languages
Command over security protocols
Aware of the latest technology
Understanding of Etherium, bitcoin, Ripple
9. IoT Solutions Architect
As we can see, everything around us is surrounded by technology. Today we have smart homes, smart devices, and smart appliances and this all is possible with IoT (Internet of Things). IoT is a technology where hardware devices (sensors, actuators) are connected to the internet to exchange data. IoT Solutions Architects are those who take care of the strategy-making and overseeing the deployment of IoT solutions across the organizations. They take active participation in design-related activities to deliver technological solutions. Every year in India, there are thousands of openings for IoT Solutions Architects. 
These professionals must be proficient in programming and have experience in hardware design and architecture. 
Skills Required for IoT Solutions Architect:
Knowledge of hardware devices and design (sensors or actuators)
Good verbal and communication skills
Knowledge of AWS, Java, and C++
10. Big Data Engineer
To handle billions of data, Big Data Engineers come into the picture and use techniques to manage it. Big Data Engineers take the responsibility for developing top-tier algorithms, predictive models, and scalable data management systems. He/She plans, designs, and builds the entire lifecycle of the development and execution of large-scale big data applications. They transform unstructured data into valuable data. In the next 4-5 years, big data engineers will be one of the most demanding jobs.
Skills Required for Big Data Engineer:
Data Visualization skills
Programming skills
Expert in Hadoop, Spark, and NoSQL
Data Modeling and Mining
| Profession | Average Salary in India (Freshers) | Average Salary in India (Experienced) |
| --- | --- | --- |
| Full Stack Developer | 6 LPA | 38 LPA |
| Data Scientist | 5 LPA | 19 LPA |
| Cloud Engineers (DevOps)  | 3.5 LPA | 12 LPA |
| Machine Learning Engineers | 4.5 LPA | 20 LPA |
| Product Managers | 6 LPA | 25 LPA |
| Database Manager | 3 LPA | 24 LPA |
| CyberSecurity | 4 LPA | 18 LPA |
| Blockchain Engineer | 3.5 LPA | 20 LPA |
|  IoT Solutions Architect | 10 LPA | 28 LPA |
| Big Data Engineer | 4.7 LPA | 17 LPA |