If you think writing a resume on a pink scented paper can get you an internship with a big law firm, well you're neither Elle Woods of Legally Blonde nor you're living in a fictional world. Long gone are the days when writing a resume on a piece of paper with basic information bagged you a decent job in a decent company. Nowadays, knowing how to write a resume that is not only simple and neat but also ATS-friendly is a skill everyone should learn. 
In today's competitive world, 40% of recruiters and hiring managers don't waste more than a minute reviewing resumes and when you submit a not-so-attractive and boring resume that doesn't detail your work qualifications and achievements, you're basically up for failure.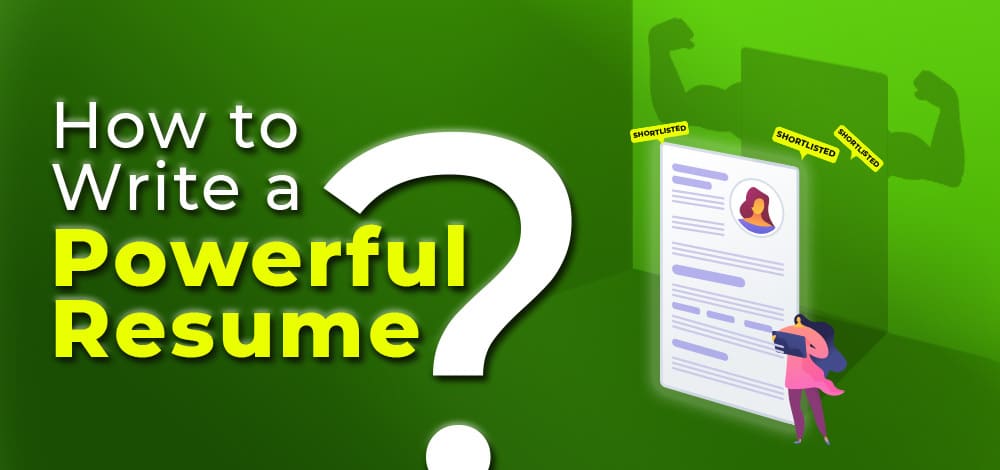 Before, moving on to how to write a resume even if you're a fresher and have no experience, let us understand what a resume is and why it is important.
Why a Resume is Important?
If you want paychecks, you've to sell yourself first and a resume is that one tool or document that lists out your features and USPs that will help you to sell yourself in the job market. Within one or two pages, a resume convinces recruiters if they want to call you for a job interview or not. (That much power your resume holds)
So, if you want to bag your first interview or want to interview at your dream company or for a dream job role, it's very important for you to write a strong and power-packed resume with correct keywords and relevant skills that will persuade recruiters to hit "I want to interview you" button. 
Now that you know why you need a resume, it's time to know how to write a resume. Board the rocketship because we're going step-by-step with this resume writing guide. Make sure you're taking notes because you're going to need them to write that stand-out resume.
How to Make a Resume (Step-By-Step Guide for Beginners)
1. Choose Your Desired Resume Format
Reverse chronological resume format
Functional or Skilled Focused resume format
Hybrid Format
Dos and Don'ts of Resume Layout 
What resume format is best for ATS
Most people have two options when it comes to getting an interview call – A++ top-tier level resume or an "I know someone here" referral. No matter which group you belong to, it's important to up your resume game and understands the strategies that are used to land an interview from your dream company within a week, if not days. Before you dive into the resume-building process, you have to decide on the right resume format that will take you up the ladder. If you've already decided to write your resume on a text editor like MS Word, it's highly recommended you should keep your HANDS OFF from them. 
Formatting your resume on a basic text editor will not waste your time but also your effort. We recommend that you should use a resume builder tool like GeeksforGeeks Online Resume Builder – Free. Our resume builder is fast, simple, and free to use. Moving onto resume formats that you can use to format your resume. 
There are three types of resume formats: reverse chronological, functional or skills-based, and hybrid. You should choose the format that suits the type of job you are applying for and your level of experience.
The 3 resume formats are:
1) Reverse chronological Resume Format – This highlights your career advancement and emphasizes the relevant job experience. It's an absolute fan favorite of recruiters. However, it doesn't show your skills much so if you're someone with highly relevant job experience, you can opt for this resume format.
2) Functional/skills-based Resume Format – Are you a fresher with no job experience? Opt for a functional or skill-based resume format if you have skills to brag about but no relevant work experience. 
3) Hybrid Resume Format – Now, this resume format is preferred by most recruiters and loved by job seekers with diverse skillsets and job experience. It combines the best elements of both reverse chronological and functional resume format and provides space for the right keyword. 
If you're wondering which resume format is best for ATS, go for the reverse chronological resume format. When it comes to resume layout, you need to mind these tips while formatting your resumes:
Page Count: Keep your resume to one page. Max 2 if you've 7+ of experience and it's relevant to your job role. Recruiters get 1000+ resumes every day and it gets tough to go through resumes with more than 2 pages. 
Heading Tag: If you're choosing an H1 tag or an H2 tag to write your headlines in your resume, then ensure that all headlines have the same tag.
White space: Keep enough white space in your resume. Negative space is needed to make your resume look professional.
PDF or Word: Download your resume as a PDF document as it can be read by most ATS. If the job description mentions that you need to send the doc file as a .doc, then send your resume like that as old ATS can't read PDF files.
2. Fill Up Your Name and Personal Information
First Name / Last Name. 
Phone Number. 
Email Address. 
Location
Dos and Don'ts of Contact Information
The most important and overlooked section of your resume is the contact information section which is right under your name. Even if you write everything correctly but haven't provided your contact details, HRs can't reach out to you even if they want to contact you. Ensure that everything on your contact information is up to date and triple-check the details if needed. 
Things that you should include are: 
First Name / Last Name – Mention the name that is provided on your social security card or if you're in India, it should match the name that's provided on your PAN card or Aadhar card.
Phone Number – Only provide the phone number that is reachable.
Email Address – Don't provide an unprotected email address. Your email address should be like this: "name.surname@xyz.com". Avoid providing email addresses like tonystarkismyguru@gmail.com, hotstuff99@yahoo.com
Location – Your residential address should be the same as the one where you stay or relocated.
Social Media URLs – If you're a software developer, mention your Github profile. If you're a designer, then Behance profile and if you're a writer, provide your personal blog that showcases your abilities. Don't forget to include your LinkedIn account as most recruiters go through LinkedIn to see your online presence. 
3. Write a Resume Headline that Can Stand You Out From the Crowd
Why do you require a resume headline and how it can help you to land an interview?
Dos and Don'ts of resume headline
A resume headline is a short, one-line statement that conveys who you are as a candidate. It is important to write a headline that grabs the recruiter's attention and encourages them to read your qualifications in more depth. Your resume headline is often the first thing recruiters read so impress them within seconds by writing a short and concise headline. Keep it relevant to your job skills and make sure that you put the right keywords that are relevant to the job posting. If you want to stand out from the crowd, keep the cliche out of your resume. Recruiters get 1000+ resumes and are familiar with cliche phrases like "hard worker" and "good communication skills". 
Some resume headlines examples for you to check out:
Goal-Oriented Senior Accountant with 6+ Years of Accounting Experience in XYZ Company.
Successful Manager of Dozens of Online Marketing Campaigns
Award-Winning Video Editor Skilled in Web Design and Video Editing
Detail-Oriented History Student with Curatorial Experience
4. Resume Summary and Objective to Use or Not?
What are a resume summary and resume objectives?
When to use them?
Examples of Objective 
The first impression is your last impression. This phrase stands true to date. An effective resume introduction can make or break you no matter what type of job you're applying for. Your summary or objective can give the opportunity to impress the recruiter so carefully write your resume summary/objective. Don't know where to write a resume summary or objective? We got you covered.
A resume summary is a 2-3 sentence summary of your working experience. Unless you're a recent college grad or changing careers, you should use a resume summary in almost any scenario.
You must include the following information in your resume summary:
Your position as well as your years of experience. For example –  a customer service representative with 5+ years of experience in the IT industry.
1 or 2 outstanding accomplishments. For example – specialized in technical support, customer service, and user retention.
Expected outcome (generally, passion for working at a specific company). For example – Looking for new opportunities as a support lead for a SaaS company.
On the other hand, a resume objective implies the goal of your resume. It conveys why you want to work in that particular field and the motivation behind it. When writing a resume summary, include an objective of 2-3 lines. If you're changing your career or have no significant work experience, make sure to write a resume objective.
Examples of Resume Objective for both fresher and for someone who is going through career change:
1) If you're a student, write your resume objective like this:
"Hard-working recent graduate with an M.A. in Mass Communication from Mumbai University seeking new opportunities. 2+ years of practical experience working with XYZ1 and XYZ2 and fluent in creative writing. Looking to grow as a creative writer at the ABC News Station."
2) If you're going through a career change, you can consider writing your resume objective like this:
"Accomplished management professional with 6 years of managerial experience and strong analytical and budgeting skills seeking to transition to a product management position with a thriving company."
5. List Down Your Work Experience
Write down work experience in reverse chronological order
Job title | Company Name | Date of employment | Accomplishments & Achievements
Tips: 

If you're a fresher, keep the education section at the top, and if you're an experienced person or did work in FAANG companies or big coming, then put work experience at the top.
If you're a backend intern, make sure you're writing the designation as a software engineering intern. 
Make sure you're covering up your tasks in 2-3 points.
Now we're down to the most important part of the resume – work experience. If an ad sells a product with just a few words, your resume does the same with you by selling you on the basis of your past work experience and achievements. Mastering writing this section is a bit tough but once you master writing the perfect work experience section, 80% work is done here. So, let's see how to list your work experience: Your work experience should be written in reverse chronological order as ATS can scan reverse chronological resume format easily.
It should be something like this:
Job title | Company Name | Date of employment 
Accomplishments & Achievements
Job title: Keep it on top of your resume so that recruiters can easily see what position you're applying for.
Company name: Mention the company you are working in or working for.
Date of employment: Mention the timeframe of your employment in all the companies you worked for. Ensure that format is like this – dd/mm/yyyy. It is important to mention as ATS parses it only then.
Accomplishments and achievements: This is where you mention your core achievements that will in turn bag you – your dream job. List your achievements or responsibilities according to your job role.
Tips:
If you're a fresher, keep the education section at the top and if you're an intern or worked in FAANG companies or big companies, then make sure to put the work experience section at the top.
If you're a backend intern, instead of writing your job title as "Backend Intern", write it as a "Software Engineering Intern". You should always write the job title mentioned in the job description.
Don't write 10-15 points covering your job responsibilities. Recruiters don't have the time to go through all of the responsibilities. Keep it to 2-3 points max.
Mention achievements in terms of how exactly you helped the company grow, reach quarterly quotas, and so on. Numbers play a big role when it comes to convincing your future employers what exactly you achieved.
6. Mention your Soft and Hard Skills
Now that you mastered writing your work experience section, it's time to dive into your skills section. There're 2 types of skills:
Soft Skills: These are your personal skills like social skills, communication skills, personal traits, career attributes, leadership, critical thinking, and management.
Hard/Technical Skills: Hard Skills are measurable skills that you can measure like how proficient you're in that particular skill. The use of technical skills frequently requires specialized tools and the technologies needed to use them.
A good resume should cover both. However, it's highly advisable that you should mention those skills in which you're fluent and not just at a beginner level. To know more about how to list your key technical skills, read our article 7 Key Technical Skills to List on Your Resume in 2022.
Once you list your hard skills with your experience level, double-check your skills section and remove any skill you feel you're not confident in and don't LIE even if your life depends on it. Lying about skills can get you in serious trouble later on and can get you blacklisted too.
7. Add Your Educational Background, Achievements, and Projects
The next section is all about your educational background, achievements, and projects. We'll keep it short and concise for you. List your educational background in this way:
Program Name. E.g.: "MBA in Marketing"
University Name. E.g.: "Mumbai University"
Years Attended. E.g.: "06/2019-05/2021"
(Optional) CGPA. E.g.: "CGPA: 8"
(Optional) Academic achievements. If you have written any interesting papers or excelled in any courses, do describe them.
Let's move on to some tips that will help you perfect your educational background, achievement, and project section:
Only keep the last 2 educational qualifications or examinations you've given.
Only add those projects which are relevant to your job opening – projects which have more number of features.
Projects to list- API-based projects, Portfolio-based projects, and Full-stack projects.
Add as many numbers as you can while listing achievements – add your highest ranking in CP or the highest number of problems you solved on GeeksforGeeks or XYZ. 
Don't add intra-college achievements as it put forth a negative impression on recruiters.
Don't add "President of the xxx club" if you're applying for tech roles. 
8. Mention Other Sections (Optional)
All the sections we've covered are must-haves but there are a few more sections that are optional and don't hold much significance. These are like booster sections that can give you an extra wow effect.
The following sections can be added to your resume:
Languages – If you're multilingual and can be handy with different languages, do mention that in your resume. However, avoid mentioning language that you're not proficient in as it can get you in trouble later on if you're not able to help your colleagues when they require your help with the said language.
Hobbies and Interests – Have extra space in your resume? Add up your hobbies and interests. It shows how you're as an individual.
Volunteering Experiences – Some studies show that volunteering has a greater impact on hiring. It shows that you're an empathetic person by nature and can be loyal to the company. 
Courses, Certifications, and Awards – Do you have any certifications or awards that can show you off and is relevant to the job position you applied for? Note them down in the resume as it shows your expertise in the said field.
9. Customize Your Resume According to the Job Posting
Intro about ATS
Why tailor your resume according to the job posting?
We're almost at the end of the guide. Now that you've done 80% of the work done. It's time to format your resume in such a way that ATS can scan your resume smoothly. To understand the term ATS better, you should know ATS stands for applicant tracking system. It is software used to manage the entire application process for employers. This system compiles, scans, and ranks all of the applications. According to a survey done, 98% of Fortune companies are using ATS to scan their resumes. ATS segments resume into various sections: Work Experience, Education, Skills, etc. Next, it looks for precise keywords and qualifications to see if you fit the job description. So it's important to tailor your resume as per the job description. Resumes that don't comply with the basic requirements are automatically discarded. A job candidate's resume is ranked based on its relevance (the best resume appears at the top of the recruiter's pipeline).
10. Proofread Your Resume With Correct Formatting
Resume fonts
Check tenses
Resume action words
Correct keywords according to the job role
Now that you're done with your resume writing task, it's time to do the most important task – Proofread your resume. Here's the checklist we've for you:
Resume fonts – Stick to Ubuntu, Roboto, Overpass, or traditional fonts like Helvetica, Garamond, or Georgia. Your font should be 10-11 and don't ever go with Comic Sans (only if you want to look like a joker)
Check tenses – Describe the current work you are doing in the present tense, and use the past tense to describe jobs from the past.
Resume action words – Use resume action words like "Chaired", "Controlled", "Executed"
Final Thoughts
Now we can say that you've mastered the art of writing ATS friendly resume. If you want to steer your resume in the right direction without much hassle, let us do the work for you. Use GFG Resume Builder to create an ATS-friendly resume that can impress recruiters and will land you the job you've been dreaming of for years.