Mobile app market is constantly growing and according to Statista the global market revenue of mobile applications is expected to reach 613 billion by 2025.  With the high demand for mobile apps, there is a rising demand for mobile app developers. But how to hire a well-rounded mobile app developer? What skills to pay attention to? Moreover, which steps to take to make the best of this cooperation?
In this article, we explain how to hire mobile app developers for building the most robust and attractive mobile apps and which rules to follow to make app development even more beneficial.
How to Hire a Mobile App Developer: Hiring Options
Before you start the hiring process itself, determine what the hiring options are and select the most relevant to your business. In fact, there are several options available: opting for freelancers,  hiring a staff augmentation team, or completely outsourcing your project to a software vendor. Let's have a look at what benefits and drawbacks each model has.
Hiring Freelance Developers
Freelance developers can be a good fit for small scale projects when there is no need for full-time team members and the project duration is short. Freelancers can be hired for a specific timeframe to perform certain activities or tasks and paid directly once they are complete. There are many platforms where to hire freelance developers like Upwork, Fiverr or Freelancer.com, etc. They significantly save time on candidate search and allow payments processing right with the help of their platform.
The main benefit of working with freelance developers is the ability to save time and money in comparison to building an in-house team. However, one should be aware that freelancers can work on multiple clients simultaneously and that can compromise on the quality and speed of work as well as provoke security issues like data leakage or IP rights violation.
IT Staff Augmentation
If you already have an in-house team but would like to concentrate them on other activities and projects, or meet a deadline more quickly, you can hire mobile app developers from a staff augmentation company on the outstaffing basis.
This type of engagement implies expanding an in-house software development team with specialists of needed level and experience required for your project. Staff augmentation has a transparent cost structure, you pay per actual work done based on developer hourly rate.

Some of the advantages of working with an IT staff augmentation company is access to the pool of app developers with the experience and skills your project requires, fast team ramp up and scalability, full control over the development process, improved quality while simultaneously enhanced data privacy.
Staff augmentation provides significant cost savings as there is no need to spend money on the equipment, infrastructure, social benefits, administrative or organizational costs, etc. You simply pay an hourly rate for a particular developer, and the vendor takes care of the rest, allowing you to focus on your core business activities.
IT Outsourcing
If you plan a complex long-term project, but lack resources in-house or you are a startup company, consider cooperation with a mobile app development company. This type of engagement provides many benefits. First, you get access to a pool of developers with specific expertise in the mobile app development industry. Second, you do not have to spend time on team management as the outsourcing provider takes the responsibility for the entire project delivery process. Finally, you are guaranteed to get a high-quality product delivered within the agreed time frame. Learn more about how to hire a mobile app development company here.
Where to Hire Mobile App Developers
While there are several options on how to engage with mobile app developers, there might also be a question of which countries you should seek developers in. Let's have a look at Eastern Europe – the most popular outsourcing region for Western Europe and even the USA.
Many EU and US businesses choose Poland or Belarus to hire mobile app developers. So, why should you opt for outsourcing your mobile project development to Eastern Europe? Here are the main benefits:
Significant cost savings
Access to IT Talent Pool
Best Technical Expertise
Compliance with International Standards
High Quality and Security
Read more on the most popular destinations for outsourcing software development in 2022.
How to Hire an App Developer: Step By Step Process
Mobile app developers are in high demand nowadays, however it is not an easy task to choose the right candidate for your project. We provide a few steps to take before hiring a mobile developer.
Here's a sample of a checklist of what you need to prepare:
Outline the project scope and prepare the requirements;
Decide on the project management and engagement model;
Look for the developers;
Conduct interviews with the developers;
Set up time and budget frames for project delivery.
1. Define mobile app requirements
The first and important step for effective mobile app development is to thoroughly examine your business requirements. This will help you to better understand your product and realize what type of mobile app developers you really need. So define the requirements for your project, which business goals does your future app have to accomplish and how should it do that, which essential functionalities and technologies should mobile app developers embedded in your app. This will help you to focus on the key functionality you need to include in your app and determine the type of mobile app: native or cross-platform, you need to create and the budget involved in the app development.
2. Choose an engagement model
Next step is to select one of the engagement models that will work for you. If your project is short-term, consider hiring a freelancer or add a few team members from a staff augmentation agency. If you have a long-term initiative, hire an IT outsourcing company or even a dedicated team. And estimate your budget before hiring the mobile development team.
3. Define the skill set
If you decide to hire a mobile developer you should have a list of hard and soft skills needed for your project. Here are the key technologies every Android, iOS, and hybrid app developer should be aware of.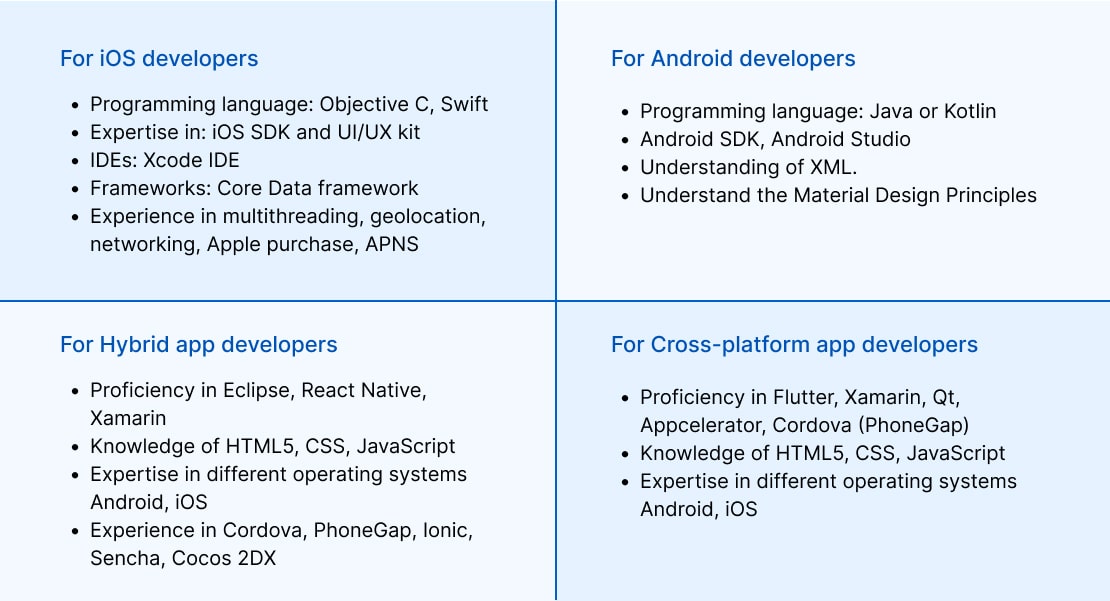 Among the soft skills important are:
Communication and negotiation skills
Time management
Proactivity
Problem-solving capabilities
Teamwork
4. Conduct Interviews
Once you have received the developer profiles and selected the most appropriate ones, set up the interview with them to check the developer's hard and soft skills.
What questions to ask app developers:
What is your previous mobile app development experience?
What tasks were you responsible for at your last project?
What programming languages, technologies, frameworks and tools are you familiar with? Which ones are you expert in and which ones do you use on a daily basis?
How do you structure your everyday work?
If you hire an IT outsourcing company the questions can be the following:
How will they communicate with you? What communication means will be used? How often?
What do they use to track the project development progress? How do they report on progress?
Who will be responsible for the project management?
5. Setup timeline and budget frames
Mobile app development is usually a lengthy process. It can take up from several months to a year, depending on the project complexity, the number of developers in your team, features you want to include. However, there are many other factors that may influence the timeline. If you are a startup and want to deliver your project to the market faster than your competitors then timing is important. In this case it might be better to develop an MVP with core functionality included while minor features leave for later after the release phase.  You will have a chance to test drive your project and get first customer feedback to enhance its further development.
For any customer it is also important to get a high-quality product at a reasonable price. However, the exact price of an application might vary depending on the project target audience, needed functionality, further enhancement, support and maintenance. Learn more how much it costs to develop a mobile app.

Conclusion
Hiring the right mobile app developers is an essential component of successful app creation. A wrongly chosen person or a company can cost you much time and money. Therefore, you need to get well-prepared before the first contact with your potential app developers. You can hire freelancers, turn to staff augmentation agencies or outsource entire project development to an IT outsourcing company. No matter what you choose, you should take into account your business and technical requirements, timeline, budget expectations. You should pay attention to mobile app developers' experience, hard and soft skills.
This thorough preparation will minimize potential risks and unexpected expenses for your mobile app development project.