Student life is about learning and growing, passion and ambition, drive and thriving. They put in all they have to create the future of their dreams and become self-dependent. In this realm of technological prominence, students can remove their financial dependence on parents a bit early by taking up part-time jobs and making side money without compromising their studies.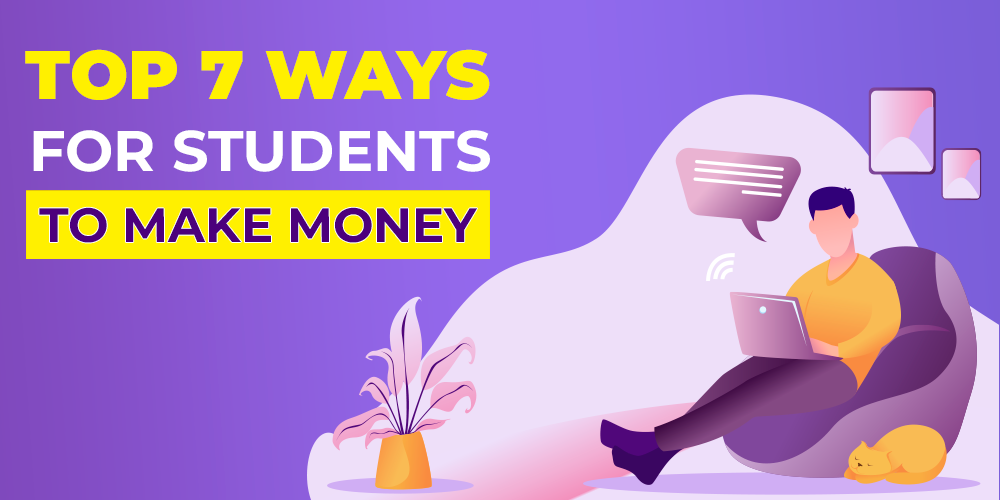 With the advent of the internet, there are ample legitimate ways for students to make money online. It also opens a window for them to peek into corporate life and helps them develop an interest in a career they might want to pursue later. Along with the extra income, time-management, organizing, and people skills, it most definitely adds to your overall development.
There are numerous jobs to make easy money online like data entry, affiliated marketing, graphic designing, online surveys, online tutoring, blogging, etc. Here we have shortlisted some of the best ways for students to make money and enhance their skills without compromising their studies.
Writing Technical Blogs or Articles: Technical blogs/article writing is just the apt job for you if you enjoy technology and you can write and translate complex technical information into a simple language that is accessible and readable to a broader range of audiences. There are many such portals available today. One such portal is geeks for geeks, It is one of the best platforms for technical writing. Along with good money, and knowledge for the preferred topic or domain, it will also add much-needed value to your resume that eventually gives you an edge over others during placements. You can earn 300-1200 per article depending on the quality, views, and likes of your previously published article.

You can pick a topic of your choice from here and start writing articles for gfg.
Geeks for Geeks is conducting a Technical scripter contest this year. It is an opportunity to test your writing capabilities and earn big.

Creating Website: If you have a thing for web designing, making money by building websites is the perfect side hustle for you. Some extra cash hurts nobody, especially when you are a student. Website building is a good part-time option as you have the rare opportunity to expand your creative skills and projects while you're getting paid. With website builders like hostinger which offers a user-friendly interface to create your own content and layout, building a website has become much easier and less time-consuming. It also provides various budget-friendly hosting plans. Get a suitable hostinger package and build and launch your website at a minimal cost.

Testing Apps and Websites:

Website designers, website owners, and business owners want to understand how easy or difficult it is for users to surf their websites/web apps. For this, they hire Website testers who get paid to test websites and answer questions about site navigation, over concept, ease of use, design, layout, color, etc. Students with the required skillset can take up this job to make quick and easy money. There are many platforms like Lambda test hiring to perform cross-browser testing with decent pay.

Data Entry Jobs:

You can earn some extra income by working as a part-time remote data entry operator while pursuing your academic degree hassle-free. If you have basic computer and keyboarding skills, and a penchant for accuracy this job will be a cakewalk for you. You will have a variety of industries option to choose from since employers across many sectors hire for these positions. It's a decent-paying job for you to earn your pocket money.

 
According to PayScale, hourly earnings for data entry positions vary from INR 144 to INR 205 per hour, with higher pay scales for applicants with the most qualifications and experience.

Social Media Ad management:

This is an era of social media. People spend most of their time online. So most companies today hire professionals to manage and grow their social media profiles to engage and attract audiences. Students experts in this domain can work as social media managers to make side money. They will have to run paid ad campaigns on Facebook, Instagram, and Google, and manage marketing campaigns based on engagement data and trends in customer interactions. It's an interesting and high-paying job.

Bug bounty:

If you have some knowledge in the cybersecurity domain, you can choose bug hunting as a part-time job. A bug bounty is a program that offers a sanity check of some sort to find vulnerabilities in an organization. It is used to discover and resolve bugs before the general public is aware of them, preventing data abuse and breaches. You don't have to be an expert to get this job but you should be proficient at least with the fundamentals of inter-networking, IP addresses, MAC addresses, OSI stack (and TCP/IP stack), etc. Big organizations give hefty rewards for reporting bugs in their software.

 
Recently, Facebook paid a Jaipur-based woman 64000 for finding bugs in the facebook workplace. Google has also launched a new bug bounty program, they will reward up to 25 lakhs to bug hunters for reporting bugs in its OSS. So, there is a pool of opportunities for you to earn big in this field.

Make online Courses/live teaching on YouTube:

This is a very efficient way of making money along with academics. If you have teaching instincts, this part-time job is best suited for you. You get to share your acquired knowledge with others who are seeking it, and also enhance your knowledge as you get to brush up on your skill set, and learn new things along the way. You can choose the technology/domain of your interest and create your own course for the same. You can take live teaching sessions of certain courses or famous problems on youtube as well. The best part is you can do it at your pace around your schedule.

 
One such successful YouTuber is Love Babbar. He is a software engineer whose videos and sheets on DSA became so popular among students aspiring to get into tech giants that he left his full-time job at amazon to become a full-fledged YouTuber.
A student's life is the best learning experience. You get to learn new skills and experiences. You can use your leisure time and earn extra money to support yourself or take up courses to learn additional things which you couldn't think of being financially dependent on others. Do not hesitate to put yourself out there and try new things. You can try various ways to make money online and help yourself. I hope this helped!