The GATE ( Graduate Aptitude Test in Engineering) Exam is one of the prominent exams in India which is conducted jointly by seven IITs (Delhi, Guwahati, Kanpur, Kharagpur, Roorkee, Madras, Bombay) and Indian Institute of Science (IISc) Bangalore. This online national-level examination is conducted for Master of Engineering (ME), Masters in Technology (MTech), and direct Ph.D. admissions to Indian Institutes of Technology (IITs), National Institutes of Technology (NITs), Indian Institutes of Information Technology (IIITs) and other institutes/universities across India. Other than that, the GATE scorecard can also get you worthwhile job opportunities in Indian PSUs like BHEL, SAIL, GAIL, etc.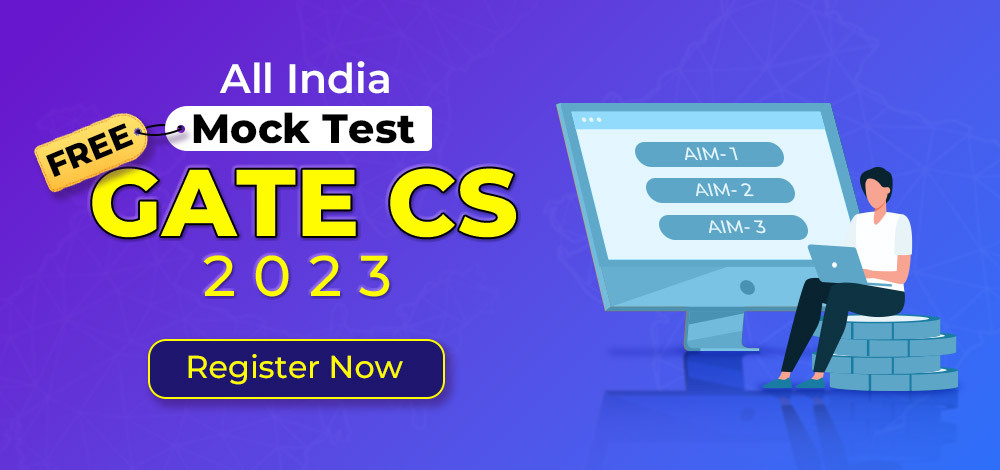 IIT Kanpur is going to conduct the GATE 2023 exam which is scheduled to be held on February 4, 5, 11, and 12, 2023, and the result will announce on March 16, 2023. 
This tells you that you've only a few months left to level up your GATE exam preparation if you're going to sit for the GATE CS 2023 exam. GATE 2023 aspirants need to practice through mock tests along with learning and revising all concepts. Solving the test series or mock tests will help aspirants like you to assess your preparation level, identify the weak & strong areas, and you can work on those areas accordingly.
To kickstart your GATE CS 2023 preparation, GeeksforGeeks brings you the GATE CS 2023 All India Mock to boost your preparation for the upcoming GATE exam. Start by taking our FREE GATE mock exam and check the detailed solution and performance analysis report. GATE CS All India Mock Test Series is entirely based on the most recent pattern for the CSE branch and will offer you comprehensive exam exposure. Practicing with the free GATE mock test can help candidates enhance their productivity and score in the exam.
Practice new problems based on the most up-to-date exam pattern, created solely by GATE Toppers and our experts. Students can use this GATE exam series to set a bar for themselves in order to better grasp the topics and know their national performance.
Check out all the details below:
The GATE CS All India Mock – 3 (AIM – 3) is scheduled for 1st week of December. Stay updated to know more!
The GATE CS All India Mock – 2 (AIM – 2) is scheduled on November 5, 2022, from 12:00 AM(IST) to November 6, 2022, 11:59 PM (IST).  Check out the details here.
The GATE CS All India Mock – 1 (AIM – 1) has been conducted from October 8, 2022, 12:00 AM(IST) to October 9, 2022, 11:59 PM (IST). Check out the details here.
You can attempt the GATE CS All India Mock 2 (2023) anytime between November 5, 2022, 12:00 AM(IST) to November 6, 2022, 11:59 PM (IST). Don't forget to REGISTER to sit for the biggest GATE mock test series. 
FREE GATE CS 2023 All India Mock By GeeksforGeeks
If you aspire to score better in the GATE CS 2023 exam, you can attempt a free GATE CS 2023 All India Mock Test series curated by GeeksforGeeks. The experts have created the online test series, which has guided candidates preparing to take an engineering entrance exam and has benefitted them. The GATE online test series is available on a single platform which will definitely help you improve your scores and also in cracking the GATE CSE exam easily.
Now is the time to get started on your planned preparation with the FREE online GATE test series, and get one step closer to getting hired in the top public sector organizations. You can boost your exam preparations and gain a better understanding of the exam pattern by taking the GATE CS 2023 All India Mock Test. Furthermore, it will enable you to establish a benchmark against thousands of other GATE candidates. You can challenge yourself today by taking a free GATE mock test. 
Since the GATE CS 2023 All India Mock Test simulates the actual exam, it will provide useful input to your GATE exam preparation. You can take these free GATE 2023 mock tests to get a real-time experience and prepare accordingly. Taking the official mock test of GATE 2023 will boost candidates' confidence and help them improve their management skills.
The mock test will consist of a total of 65 questions for 100 marks that need to be solved within a given time duration of 3 hours.
Some of the prominent features of this mock test are listed below:
In this mock, you will find MCQ, MSQ, and NAT-type questions.
This mock will help you in knowing your strong and weak points and accordingly, you can prepare for the upcoming GATE 2023 exam.
This mock will familiarize you with the examination mode, and pattern, and will help you practice in the real-time scenario.
You can also get a hefty scholarship for the GATE Complete Test Series 2023.
How to Register for the GATE CS 2023 All India Mock Test by GeeksforGeeks?
You can easily register yourself for the GATE CS 2023 All India Mock Test – all you need to do is follow the below-mentioned steps:
Visit the official link: GATE CS All India Mock by GeeksforGeeks and click on the 'Register to Contest' button.
Then, a registration form will be shown to you where you will be required to provide some basic details like name, contact number, etc.
After entering the details, click on the 'Register' button to get successfully registered for the mock test.
Contest Details and Guidelines
Do check out the below-mentioned contest details and guidelines carefully:
Go through various question palette symbols and understand their meanings before starting the examination.
After the start of the examination, you can view all the questions by clicking on the Question Paper button on the screen.
This question paper consists of 2 sections, General Aptitude (GA) section for 15 marks and the subject-specific section (CS) for 85 marks. Both these sections are compulsory.
The GA section consists of 10 questions. Question numbers 1 to 5 are of 1 mark each, while question numbers 6 to 10 are of 2 marks each.
The subject-specific CS section consists of 55 questions, out of which questions numbers 1 to 25 are of 1 mark each, while questions numbers 26 to 55 are of 2 marks each.
Use the data given in the question while answering that question. If such data are not given, and the paper has useful data, then the same can be viewed by clicking on the Useful Data button that appears at the top, right-hand side of the screen.
The question paper consists of Multiple Choice Questions (MCQ), Multi-Select Questions (MSQ), and Numerical Answer Type (NAT).
Multiple choice type questions have four choices A, B, C, and D, out of which only ONE is the correct answer. Select the answer by clicking on the radio button placed before the choice, with the help of the mouse.
For numerical answer type questions, a numerical answer should be entered with the help of the mouse and the virtual numeric keypad, which will appear below the question.
All those questions that are not attempted will carry zero marks. However, wrong answers for multiple choice type questions (MCQ) will carry NEGATIVE marks. For multiple-choice type questions, a wrong answer will lead to a deduction of 1/3 mark for a 1-mark question and 2/3 mark for a 2-mark question. There is no negative marking for MSQ and NAT questions.
Your answers will be saved on the server periodically and also at the end of the examination. The examination will stop automatically at the end of 180 minutes.