The number of people who prefer buying things online is rapidly growing, especially in the last 2 years with lockdown times during Covid pandemic. The global ecommerce market is $5.55 trillion in 2022. People got used to the comfort sitting home and buying goods over the internet. There is no need to go to the brick-and-mortar store, almost everything can be delivered to their home at the earliest convenience.
According to Statista, there are already more than 2 Billion digital buyers worldwide, and this number keeps increasing.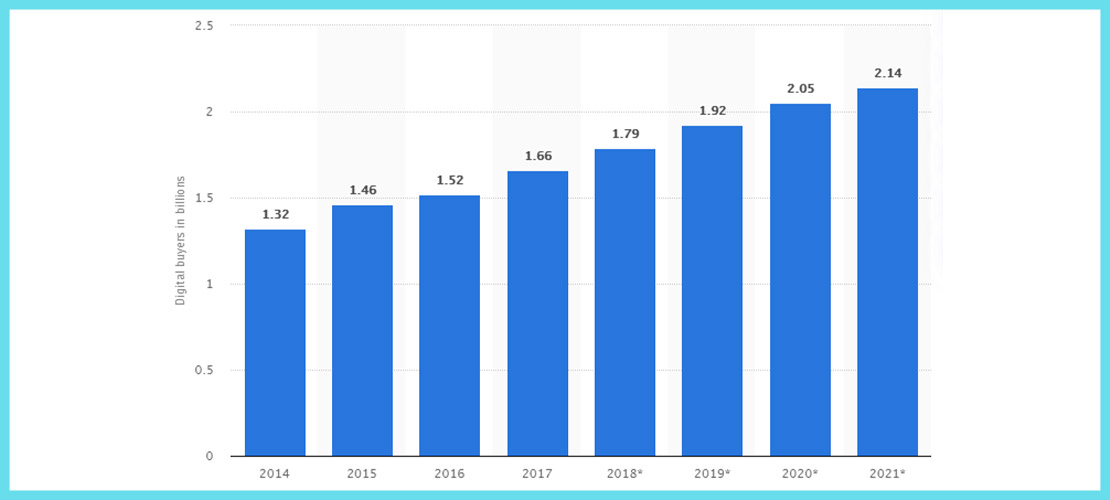 Source: statista.com
The increasing trends in e-commerce offer considerable advantages to businesses who sell their product online and make those who have previously been selling only offline move their services online. When it comes to creating an e-commerce solution, be it a portal or a simple website, one should think of its core – content management system. Let's have a look at the notion of what it is, how to choose the most appropriate one and what e-commerce content management systems are currently in the top priority.
What is a Content Management System?
CMS or content management system is used to add, update and manage digital content without writing any code. It can be any goods' information with brief and detailed descriptions, images, videos, rating, etc.
Features Needed in an Ecommerce CMS
A typical CMS solution includes the following features:
Admin dashboard
Content publishing tools
Media library
Storage and backup
Built-in SEO tools
Detailed Analytics
Integration with 3rd party tools
How to Choose a CMS System?
There is a wide range of CMS solutions available on the market but how to choose the one that will suit your business needs, what to pay attention to when selecting a CMS system.
First, the CMS system should be easy to use as it will be mostly leveraged by people with no technical background. It should be intuitive and user-friendly enough for them so that they do not spend time on looking at how to upload content or editing it.
The second thing to pay attention to is how easy the CMS system is to customize. There is no system that will perfectly fit your needs so the system you choose should leave space for creativity and adjustability to your business vision and preferences. It can either provide an easy customization or integration with 3rd party tools that can provide you with a custom theme or seo tool, or else.
The next important criteria when choosing a CMS is price. Not always a costy CMS can be good for you as it may include unnecessary functionality for your team as well as a cheap solution can provide needed functionality but the customization might be of high price. Some CMS providers might ask for additional payment for hosting and storage, various plugins, customized themes, etc.
Another point that is worth mentioning is CMS security and performance. As your system will be available on the internet it can be cyber-attacked and customer data may be stolen, that may cost you reputation and even business loss.
Google has released new updates where one of the main criteria for ranking is performance. However some CMS systems and its plugins can be poorly performing, influencing the load time with its inner styles, scripts, etc.
So before opting for some solution we would recommend doing a thorough research bearing the above mentioned points in mind.
To help you make the right choice, we have listed the top ten eCommerce CMS solutions for 2022. We've covered the strengths and weaknesses of every platform to help them choose wisely.
What Are the Best E-Commerce CMS Platforms?
1. Shopify
Shopify is one of the most popular eCommerce platforms in the world. At the moment, it is used by over one million eCommerce stores from 175 countries. The reason for the popularity of Shopify is quite obvious – it is a high-quality eCommerce platform that is suitable for firms of all sizes, from small businesses, to large enterprises.

Shopify offers users a wide range of features for marketing, payments, sales, customer engagement, and other activities. Thus, using this CMS, each vendor can manage their store, even without resorting to additional software.
One of the hallmarks of this CMS is flexibility. Shopify offers many pricing plans, therefore, each user can choose the option they can afford. For example, small online stores can use the cheapest plan and get a minimal set of features and modules. Enterprises with large resources can afford Shopify Plus, a more advanced version of the CMS, which suits transnational corporations.
Another advantage of Shopify is its convenience. Besides the fact that this CMS is quite easy to use, eCommerce stores can utilize the Shopify mobile app to manage the shop from anywhere.
One of the biggest drawbacks of this eCommerce software is that store owners are charged each time they use third-party payment gateways. Thus, if the merchant intends to use third-party payment systems, they should be prepared to pay extra transaction fees.
2. Magento
Magento is another giant in the eCommerce software market. More than 250,000 eCommerce stores are already using Magento to manage their online business. Besides that, this CMS often gets on the lists of the most popular eCommerce platforms in the world.

Magento is rightfully considered one of the best eCommerce platforms in the world, as it offers a wide range of customization options for small online stores and large businesses. It also provides users with numerous third-party integrations and excellent performance. In addition to the standard functionality of CMS solutions, Magento also offers merchants tools for catalog management, marketing, and SEO.
Despite all the advantages, if you choose Magento you should understand that installing this eCommerce software is a much longer and more complex process compared to other solutions. Even though Magento Open Source is free to download and use, all other things like development, themes, add-ons, and hosting may require expenditures. Thus, Magento better suits established eCommerce stores that have a solvent audience and ceaseless demand.

3. WooCommerce
When we list the best quality and most famous eCommerce platforms, we simply cannot ignore WooCommerce. The thing is that today this CMS is one of the leading eCommerce solutions in the world. According to Statista, WooCommerce has a market share of 28.24% which now makes it the world's leading eCommerce platform in 2021.

By its nature, WooCommerce is a flexible open-source WordPress-based platform that provides online stores with numerous features and extensions, such as PayPal integration and 1-Click Selling. The WooCommerce CMS is also quite easy to use, so there is no problem for eCommerce stores to customize the system to their needs.
While WooCommerce is free for those who have a WordPress-based website, other businesses will have to pay for hosting. Also, WooCommerce may require additional expenses for the purchase of plugins. However, some companies that use this eCommerce software may have security concerns because of these third-party plugins. Not all of them are connected to WooCommerce directly, and this nuance can be used by hackers.
4. BigCommerce
BigCommerce is a hosted platform that allows eCommerce stores to create and manage digital shops and sell products via the web. When using BigCommerce, users don't have to download and store anything, since this CMS is a SaaS product.

BigCommerce contains a wide range of valuable features that allow users to effectively sell products and even market online stores. It also provides vendors with a number of customization options that allow them to change the design of the store and adapt it to their business needs.
Like Shopify, BigCommerce offers eCommerce stores a flexible set of plans, so each brand can choose the plan that suits it best. Therefore, the system can be particularly relevant for brands that want to use a CMS that is cost-effective and easy to customize. On the other hand, after paying for the subscription, users may need to switch to more expensive plans since the standard BigCommerce plan cannot offer a rich set of themes and add-ons.
5. Open Cart
OpenCart is a free open-source eCommerce platform for small and large online stores. This eCommerce software has a relatively large community of contributors, so the product is constantly evolving and improving.

The main advantages of this platform are simplicity and flexibility, therefore it can be useful for small online stores and startups that don't want to spend a lot of time and money on development. OpenCart provides users with a wide range of payment methods and more than 13,000 extensions, therefore, any brand can customize the software and better tailor it to its needs. OpenCart provides merchants with such features as a marketing tool, sales reports, customer and order management, and so on.
The disadvantages of this eCommerce software include low performance, which may be fixed with the help of additional plug-ins and extensions, and the need for the merchants to host and secure the site themselves.
6. Wix
Wix is a relatively new eCommerce platform that is successfully used by online stores around the world. By its nature, Wix is not a ready-made eCommerce product but rather a solution for constructing websites which allows users to create digital stores using an inbuilt set of tools.

What makes Wix a good CMS? Firstly, it is easy to learn, which means that even a beginner who doesn't have experience in coding can quickly create a site. In fact, the user only needs to choose a suitable design, and then the system develops the site. Secondly, this eCommerce software is very customizable since it offers a huge selection of creative templates that can be used to build original sites that are different from competitor sites. Merchants can also install various eCommerce, marketing, and social plugins, to make their stores more efficient.
However, the product has a number of disadvantages. For example, users cannot change the store's design and template after it has already been selected, or use native blogging solutions since Wix doesn't provide them.
7. PrestaShop
PrestaShop is a popular open-source eCommerce CMS. Many brands use it because they don't have to pay any license fees for developing and managing online stores.

This eCommerce software is quite flexible and easy to manage because each user can download it for free and then customize it using various add-ons. Among other things, the system supports a wide range of integrations, for example, those related to payment, such as Paypal or Google Checkout. If a merchant doesn't want to spend time customizing the system, they can buy a hosted version which is called PrestaShop Ready.
In general, PrestaShop may be useful for online stores that don't want to spend much time developing an eCommerce solution, which sets PrestaShop apart from other solutions.
Nevertheless, this eCommerce software has a couple of drawbacks. For instance, merchants may spend extra money on the purchase of modules and add-ons, because not all of them are included in the standard set. Also, previously PrestaShop had some problems with payment gateway modules so users may fail to complete payments quickly.
8. PinnacleCart
PinnacleCart is a widely used PHP-based eCommerce shopping cart platform that allows merchants to quickly set their digital stores and sell goods online. Today, PinnacleCart is used by 30,000 online stores.

PinnacleCart may be a good choice for eCommerce stores management, as this CMS offers a large number of valuable features, such as SEO and email marketing tools, creative templates, third-party integrations, and customization options. Also, despite the fact that the usage of this CMS costs $ 40 per month, merchants can use the 14-day trial version to see if it meets their needs.
In general, PinnacleCart's eCommerce software may be more relevant for small or medium-sized stores, since the system has limited bandwidth and storage which can be very inconvenient for large brands.
9. Salesforce Commerce Cloud
Formerly known as DemandWare, Salesforce Commerce Cloud is an upscale eCommerce platform mostly for enterprises and multinational brands. Such famous companies as Puma, Adidas, YETI, and ECCO utilize Salesforce Commerce Cloud to sell goods and interact with customers.

Salesforce Commerce Cloud is a full-fledged eCommerce software suite that provides merchants with a wide range of capabilities and features, which is especially relevant for eCommerce stores with complex requirements. For instance, users can study consumer behavior and improve the work of their online stores with the help of the built-in AI system. Also, Both B2C and B2B businesses can customize the platform to their needs, as well as integrate it with almost any product in the Salesforce family.
However, to develop a store with this CMS merchants may need to have coding skills. Also, online store owners have to bear in mind that the more features they need, the higher price for using the platform will be.
10. Squarespace

SquareSpace is one of the leading website builders and blogging platforms nowadays. But Squarespace also provides hosting services, domain registrar, and online store creation. It's especially known for its professional template designs and design building tools. Best used for businesses that want to develop online stores with creative and UI/UX design. It allows users to build completely customised pages optimised for mobile devices. It is a powerful eCommerce platform for selling digital content, products or services.
Wrapping Up
There are many eCommerce platforms in the market and they all have a wide range of functionalities. However, there is no universal solution, because each product has its pros and cons.
To maximize the benefits of an eCommerce CMS, companies can develop digital solutions that are tailored to their business needs. This way, online store owners can ensure that they get a custom product adapted to their business requirements and able to deliver the highest possible ROI.
If you are considering the possibility of developing an eCommerce platform, get in touch with our experts who will provide you with a free consultation and answer all your questions.